This photogenic duo created a glamorous affair for their Robina real wedding at The Glades.
With thanks to a large budget and an organised bride, Willie and Tahlia Dixon made some unforgettable memories along with 65 of their closest friends and family.
Date: 5 April 2014
The Couple: Willie and Tahlia Dixon
Location: The Glades, Robina, Gold Coast
No. of Guests: 65
First Dance Song: Watch Over Me – Bernard Fanning
Theme: Black, white and bling
Budget: $35 000 plus – without honeymoon
How did you meet? Willie and I met through our mutual friends when I was 17 and he was 21. Our good friends continuously tried to set us up until one day we finally got to talking and once we did, we never stopped.
How did you meet?
Willie and I met through our mutual friends when I was 17 and he was 21. Our good friends continuously tried to set us up until one day we finally got to talking and once we did, we never stopped.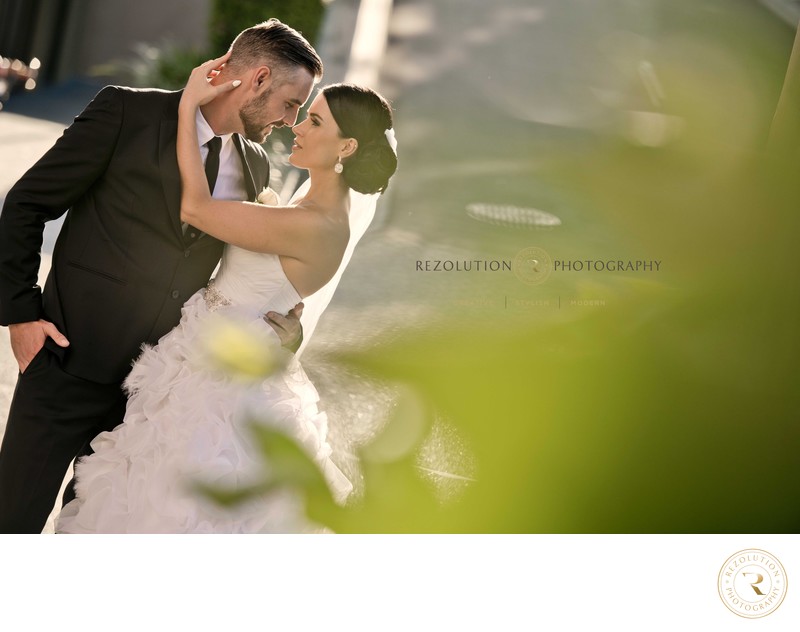 Tell us about the proposal…
We were holidaying in New Zealand and Willie had organised a surprise dinner at the revolving restaurant in the Sky Tower in Auckland. Once we were there he had originally planned on proposing on the observation deck but didn't realise how many tourists would be there so he had to think of another plan. Once we got to the restaurant he snuck off and spoke with the chef who then wrote in chocolate on my desert plate will you marry me?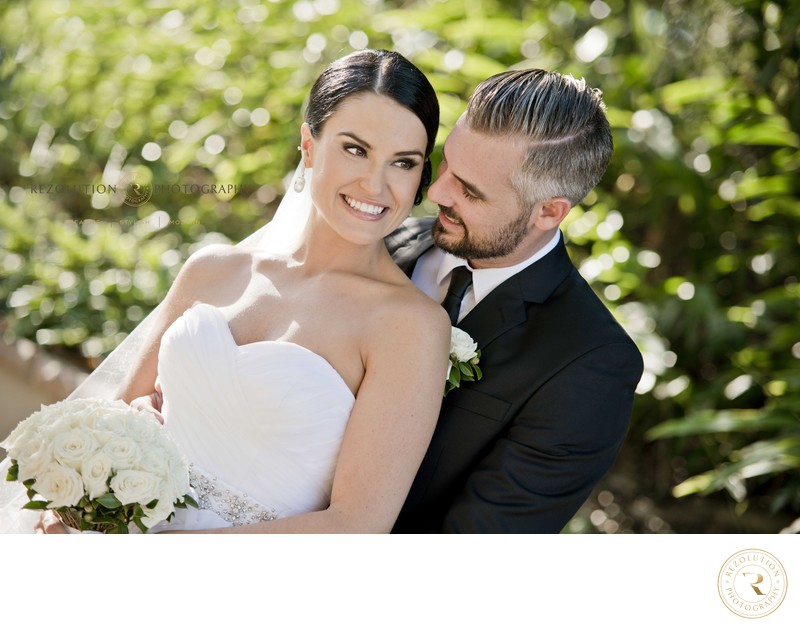 Why did you choose The Glades for your wedding?
I just fell in love with it. I instantly knew I wanted to get married there the minute I saw it. I wanted an outdoor ceremony and the lawn area, the gardens and the view was just divine.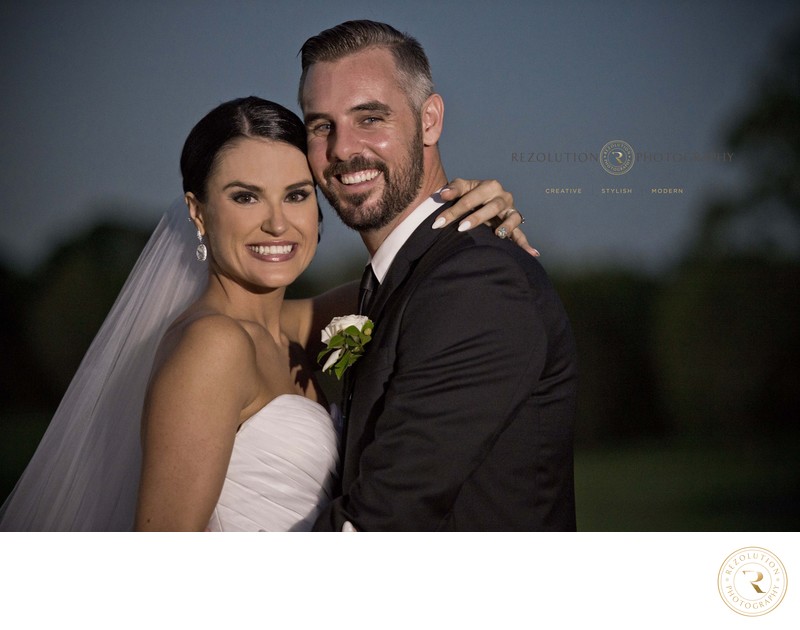 What did you do for your hens and bucks?
I had nothing to do with the planning of my hens weekend. My five wonderful bridesmaids planned the whole thing and I never knew what was coming next! We started off in a beautiful suite at the Mantra Circle on Cavill Avenue, where we were joined by the rest of the guests, followed by some hilarious entertainment. After a few drinks we went onto the second location where I had some more entertainment at a night club and danced the night away. The boys stayed in a lovely house on the Sunshine Coast. They had some entertainment of their own, went paint balling and swam and drunk lots!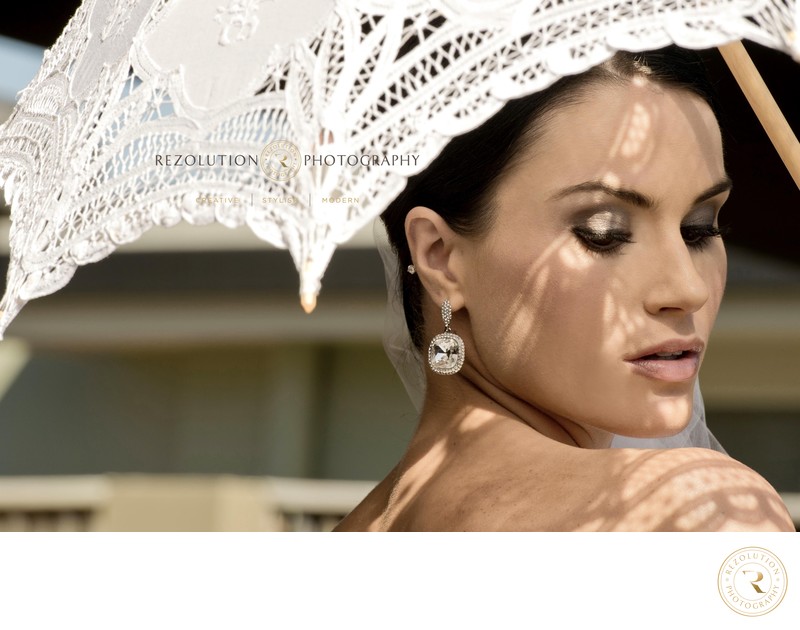 DIY Details
I hand made all of my photo booth props and hanging pom poms. I bought a lot of my own decorations for the reception such as my lolly buffet, birdcage wishing wells, candles and drink dispensers for after the ceremony.
Key Styling Inspiration
I wanted something visually beautiful that wouldn't date! I wanted lots of white with a bit of black and of course bling. The bridesmaids dresses and flowers worked great by adding that pop of colour.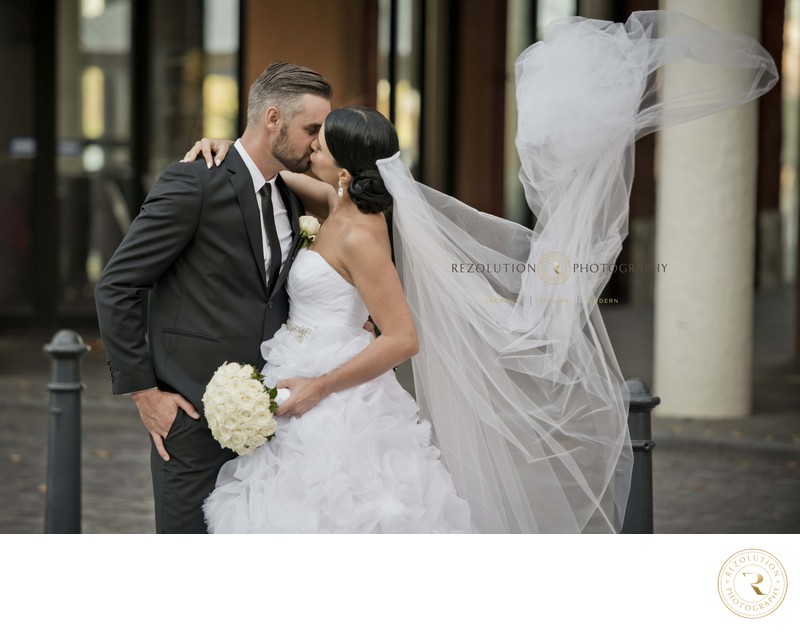 What gifts did you give your guests?
We gave them black baroque frames that doubled as their name card holder.
What was the funniest moment of the day?
There were actually quite a few funny moments. During our ceremony, our celebrant made a small mistake by asking Willie to, "take me as his lawful wedded husband". Which threw him off a bit and of course ended in fits of laughter. Willie's brothers speech – although written on a coaster – went for quite a while and was filled with hilarious stories and memories.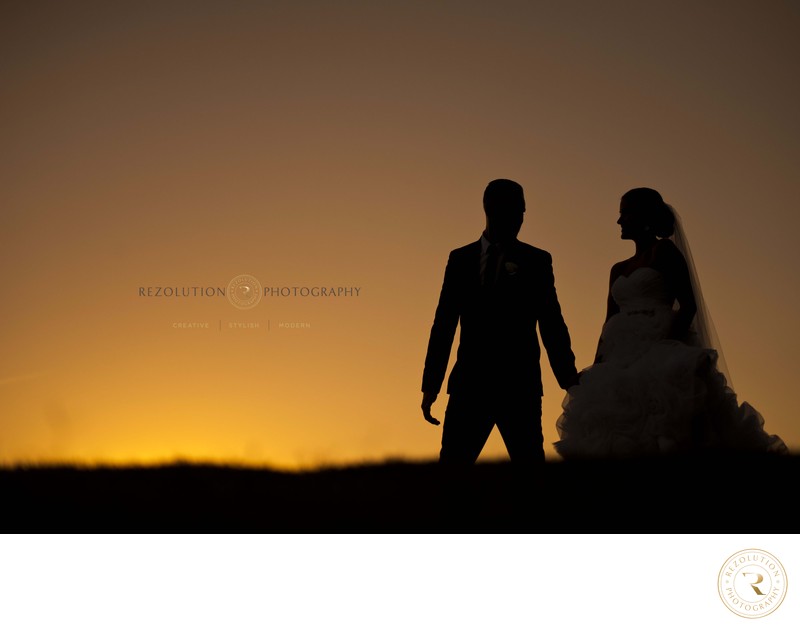 What was the most special memory from the day?
Other than marrying the love of my life, having all of our family and friends come together to witness Willie and I get married. It was amazing. We feel very blessed to have such wonderful people in our lives.
What did you do for your honeymoon?
We went to New York, San Francisco, L.A, Vegas and Hawaii. We had an absolute blast! Some of the highlights were; seeing all the sights in each city, going to watch a basketball, ice hockey and baseball game, snorkelling with turtles, cycling through Central Park, seeing two Cirque Du Soleil shows in Vegas, going to Disneyland and Universal studios, hiring a car and driving around Waikiki.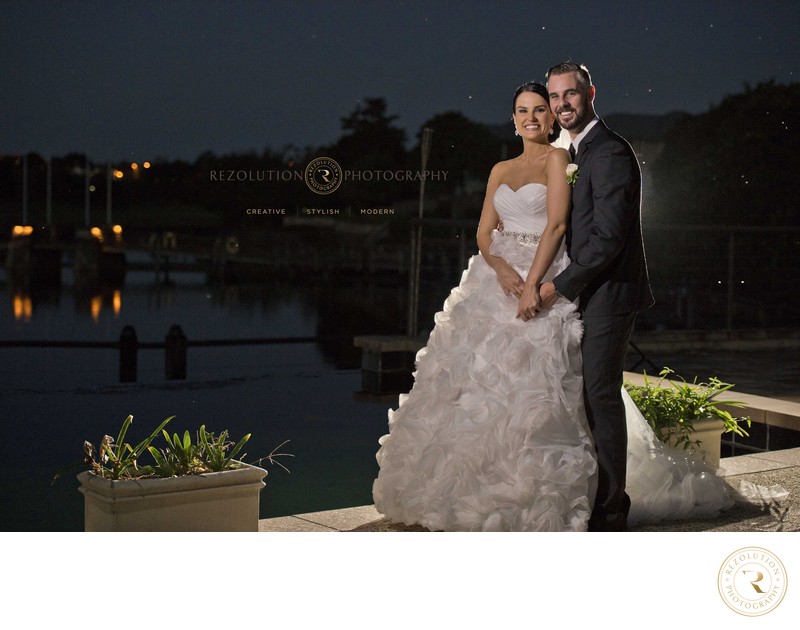 Special thanks to…
All of our family and friends. A lot of them made such an effort to be there for our wedding day and we will be forever thankful.
What advice would you give to future brides-to-be?
Book the major things first, a lot of the popular suppliers and venues go quickly! To do lists: I may have planned my whole wedding in the notes section of my iPhone (this I probably wouldn't recommend) but it was so handy to have it with me wherever I went and to add things to whenever I needed. Looking at lots of wedding photos for inspiration was a great way for me to figure out what I wanted my wedding to be like- which came in handy for when I went shopping or had to choose colours etc.
Ceremony: Circle of Love // Reception: The Glades Golf Course Robina // Gown: Strictly Bridal // Bridesmaid Attire: Luv Bridal // Groom's Suit: Roger David // Groomsmen Attire: Roger David // Decorator: Table Toppers // Flowers: Devine Flowers // Hair: Allure hair and make-up // Makeup: Allure hair and make-up // Cake: The Flour Girl // Caterer:The Glades Golf Course, Robina // Transport: Image Limousines // Stationery: zazzle.com for our save the dates and the bride's mum made wedding invitations. // Music: United Djs Gold Coast // Photographer: Rezolution Photography // Honeymoon: Ron Knight- Knight Flight // Celebrant: Tennille Jones // Engagement Ring: Diamonds International //Bride's Wedding Ring: Diamonds International // Groom's Wedding Ring: Diamonds International // Photo Booth: In the Booth //